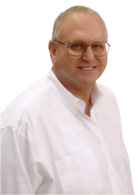 Ken Levitt - Owner
Serving the Sign Industry Since 1972!
"It is with great pleasure that I welcome you to Century Graphics & Metals. Since 1972, we have had a 100% commitment to providing the sign professional with quality sign products and accessories. We owe special thanks to our loyal customers for their support through out the years and pledge to continue to offer the same quality products and high level of customer service to the industry for many more years to come."
- Ken Levitt - Owner
As one of the nation's leading manufacturers of high quality metal sign frames, stakes, aluminum sign blanks, auto tags, and magnetic vinyl sheeting, Century is here for you! We are a wholesale supplier of quality sign products, servings Sign Distributors, Sign Shops, Ad Agencies, and many other resellers of sign products. We offer a large variety of standard sizes and colors in our aluminum sheeting, and also supply custom frames for many individual customers. If you need something special, Century Graphics & Metals is here to help you.